A sunrise photo, not a sunset, as I struck out from Caversham on Monday morning.  There was just a single ray of the rising sun probing ahead to the salmon glow from the east, marking the track into the morning, into the week.
Lots of road time and phone calls, but ending with good success on the business side of things.  I've been trying to catch up with end-of-quarter accounting and academic reviews, even stepping away during the evenings to do some walking and cooking.
Among three dishes tried, I would say that one worked.
The butcher received a shipment of Dorset Goat, which I've never tried to cook.  Use it as a substitute for lamb, especially in curry, my butcher suggested, be sure to braise it slowly.  I opted for a Thai-inspired Kelantan, which necessitated some hunting at Tesco for tamarind and lemongrass.

The recipe was straightforward: rub the marinade into the diced meat, assemble a spice paste, and braise the whole thing in coconut milk in a slow oven.
The result was good, but not spectacular.  The meat reduces a lot from beef-sized stew chunks to curled morsels without giving a lot of flavour to the broth.  Serve over rice with a strong green side vegetable.
Similarly, an attempt to make a roast duck leg dish failed to impress. 
Usually the cut needs to be chilled with a rub and then cooked slowly to bring the meat off the bone (duck confit): I mixed the finished meat and spices into a red-wine risotto.
Failure on both counts, I'm afraid.  The meat was tough and unpleasant after cooking, and the starch in the risotto is a bad combination with the sweetness of red wine.  I'm going back to duck breast and to white-wine versions, evermore.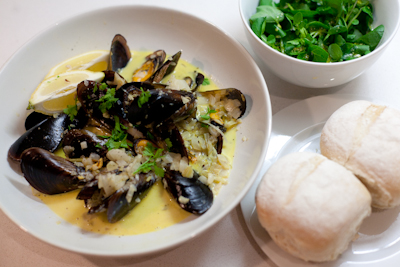 What did work well was a white-wine pot of mussels,.  I'm not usually a fan of the Hairy Bikers recipes, but this one was a solid take on the Belgian-style moules.  The w.wezen and I added a bit of crème fraiche to keep it from getting too sweet and a yellow onion to make the broth stronger than with the recommended leeks.  'agreed that this is a keeper.
Cooking note: Any recipe in Great Britain  that requires an oven has instructions that specifies a Gas Mark setting.  Its a mysterious concept to Americans, an integer number from one to nine.

Introduced for using Regulo Gas Cookers  in the 1940's, the value starts at 275 and increases by 25 F with each Mark (so Gas Mark 3 is 325F).

This is different than the Thermostat (Th) integer scale used in France (starts at 100F and increases by 50F  at each step) and the Stufe scale in Germany, which begins at 150 C and increases by 25C at each unit increment.